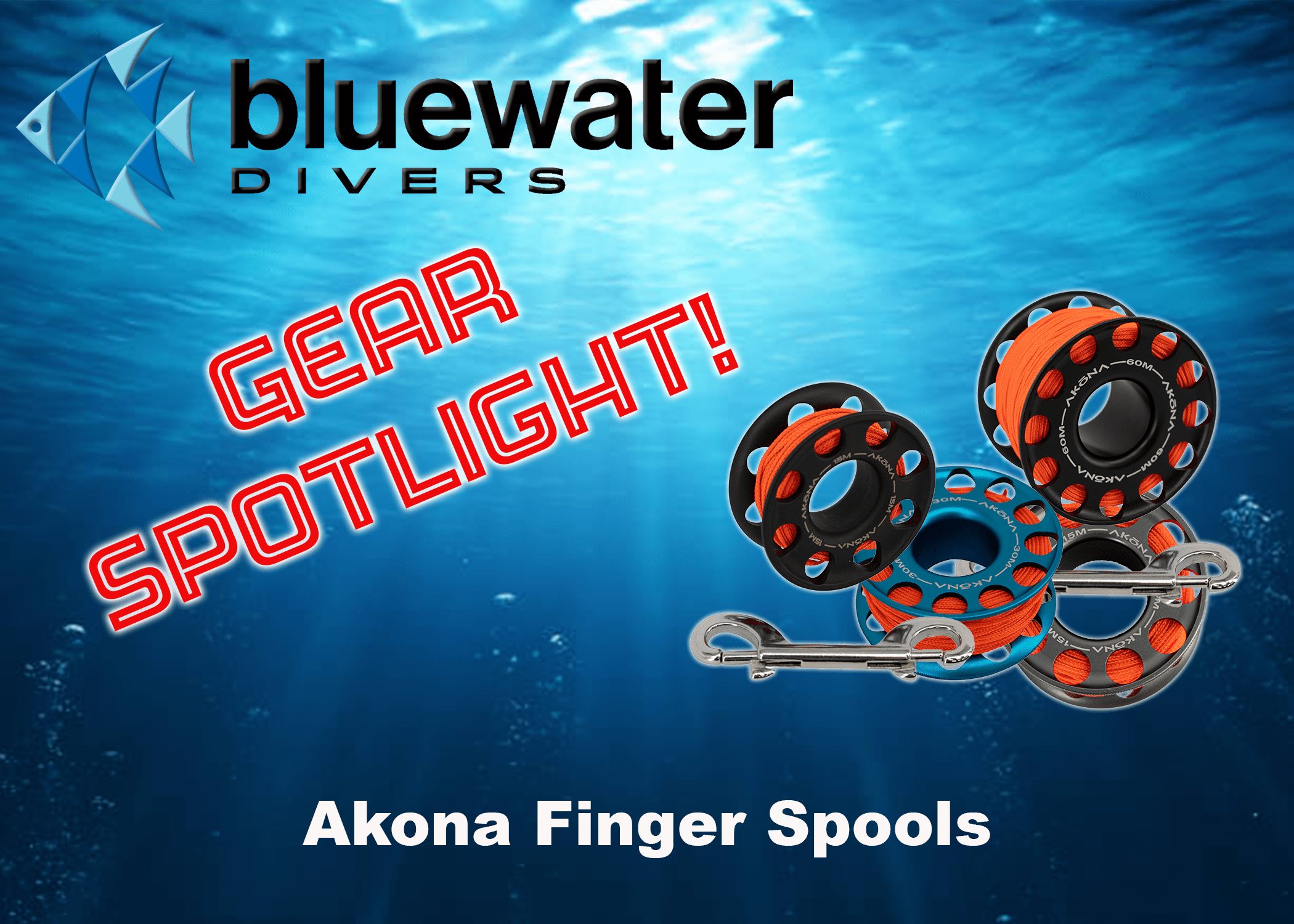 Finger spools are an invaluable part of any scuba kit. They can be used for anything from running penetration line for wrecks or caves (if you're properly certified) to their most common, and intended, purpose, which is launching a surface marker buoy (SMB).
BWD is proud to have been part of development for what may be the best (quality and price) finger spools on the market today!
Our Mission – When we approached Akona with our idea for a better finger spool, we used a particular manufacturer's existing product as the model for comparison. This other manufacturer's spools have been know for quite a while as being about the best spools on the market, but there was still room for improvement. Akona delivered!
Better Than the Competition – The "other guy's" spool is very good, don't get us wrong. It's made of anodized aluminum, it has a large, 1″ finger hole, and comes with a stainless steel double ender. However, it misses the mark (in our opinion) in two ways: 1. it's way too expensive, starting at $119 for the 15m version, and 2. the flat line that comes standard on "theirs" likes to twist up and break. That's not a good thing… We went to Akona with our concerns, and they answered. Click the pic at right for a larger example of Akona's new spool offerings!
Akona Finger Spool Highlights:

Tough, but lightweight, anodized aluminum
CNC-machined from a one-piece billet
Large center hole allows access even in thick gloves
Four colors – dark gray, blue, silver, and black
Four line lengths – 15M (50′), 30M (100′), 45M (150′), and 60M (200′)
Real cave line, not that flat stuff
Stainless steel double ender included with all models
Akona Went Above and Beyond – When we worked with Akona to develop the best aluminum spools on the market, we had no idea that they'd go the extra mile to bring delrin/plastic spools to the table, as well! Three different offerings: 15M, 20M, and 30M. The 15M (50′) delrin spool (author's pick) is, hands down, the best "plastic" spool available today. Tough as nails, large center hole, good line that's not overwound so you have plenty of space to clip on your double ender, wide flare for easy spooling/unspooling, and a stainless steel boltsnap. AND it retails at $20!
Click the pic at right for a larger view.
With a starting retail price of $75 for the 15M version, Akona's new aluminum spools aren't "cheap," but they are definitely the best quality spools on the market for the money. The 60M version is still much less expensive than the competition's cheapest offering! These, and their delrin counterparts, are the finger spools you want in your kit.
Here's a nice video on the basics of using a finger spool and DSMB. It's not the easiest thing in the world, so contact us about taking the DSMB specialty!