The Best Way to Get There – The 20/20 Program!
The PADI Master Scuba Diver rating is the highest non-professional certification in the scuba world. It says that you've "been there, done that, learned a thing or two," and it's a badge of honor to be worn proudly.
PADI Master Scuba Diver (MSD) consists of:
Open Water Diver
Advanced Open Water Diver
Rescue Diver
Any 5 PADI specialty diver certifications
50 logged dives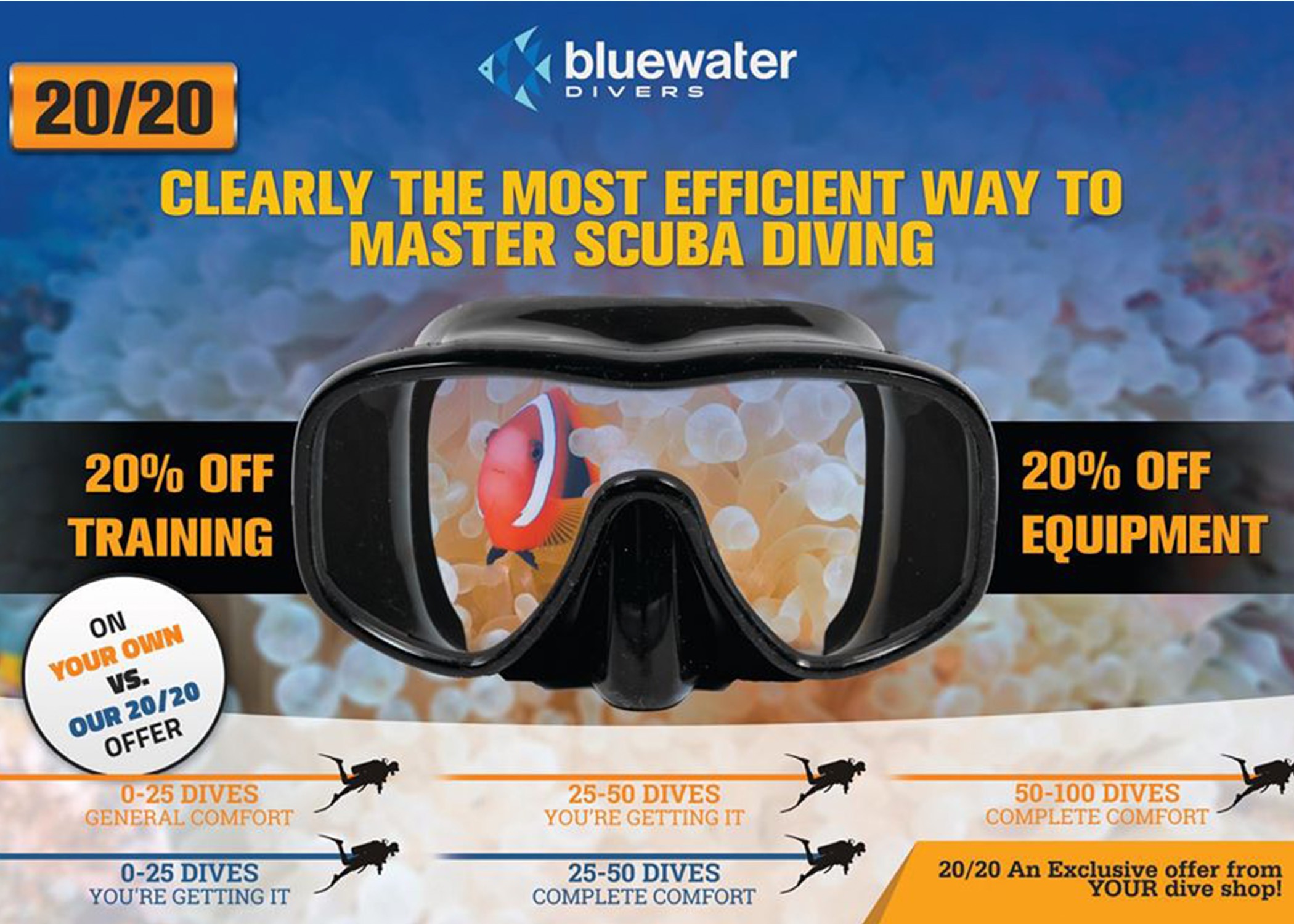 Most all divers desire the level of complete comfort in the water that a Master Scuba Diver rating provides, but many get stuck in a rut, dive just once a year during a cruise, or think it's too expensive to achieve. This leads to inactivity. We hate to see all your time, effort, passion, and money go to waste, so we invented the cure: The 20/20 Program. Not a typical Master Scuba Diver challenge, 20/20 was designed specifically to get you completely competent, confident, and comfortable in the water much faster than you'd get there on your own, while saving you a TON of money in the process!
Enroll in our exclusive 20/20 Program with minimal commitment, and save 20% off of gear, classes, and materials for 20 months!
Participate as much or little as desired, but Master Scuba Diver is the ultimate goal.
Discover your full potential sooner rather than later, save lots of money, and meet new dive friends.
Minimal commitment to enroll
Discover a realistic and consistent source of equipment you like, whether owned or rented.
Personal consultation to develop the ideal goals and schedule for each participant
Flexible schedules and options all focused on your lifestyle upgrade
Significantly reduce the risk of letting your passion for scuba slip away and becoming inactive.
Why 20/20?
Some divers see this program's benefits with 20/20 clarity, while others who struggled to find comfort in the water may find that hindsight is 20/20. Over the past 20+ years we have been training enthusiastic divers, closely analyzing their progress, and studying their lives as they relate to scuba diving.
If you asked them, many would say they can't imagine what their lives would be like if they hadn't learned to dive. Others might say they can take it or leave it, and some who simply enjoy it when the opportunity arises. Then there are the majority of divers who love the idea of scuba diving but aren't sure how to stay active, find dive buddies, get more comfortable in the water, and so on. We have offered many valuable resources over the years to help divers find their way, but nothing even close to this exclusive program we call 20/20.
Who is eligible?
Maximum benefits will go to newly certified divers; however, we've put years of experienced-based thought into this program, so divers of any experience level can take advantage of it to varying degrees.
Contact the shop for a personal consultation and explanation of benefits.