You Kind Of Have To See It, and Use It, To Believe It
Demo The Best Gear In The Industry For The Same Price As Other's Rental Gear
Advantages of Bluewater Divers' Rental and Demo Department:
*It's NOT rental gear!
*The top models from all the best brands
*It's never more than 1 year old!
*Male, female, and child specific BCs in ALL sizes
*Free travel days. Why pay for it when you're not using it?
*Rent To Own. Every day of rental earns CASH toward the purchase of new gear!
*Try It Before You Buy It. Don't make an expensive mistake based on someone else's opinion! Take advantage of our resources, and find out what works best for YOU before you buy!
Regulators – $25/day with octo and air-integrated computer
BCs – $18/day
Wetsuit – $8/day – Akona Quantum Stretch 5mm S-4XL
Weights – $5/day up to 16 lbs.
Tanks – $8/day-air, $15/day-nitrox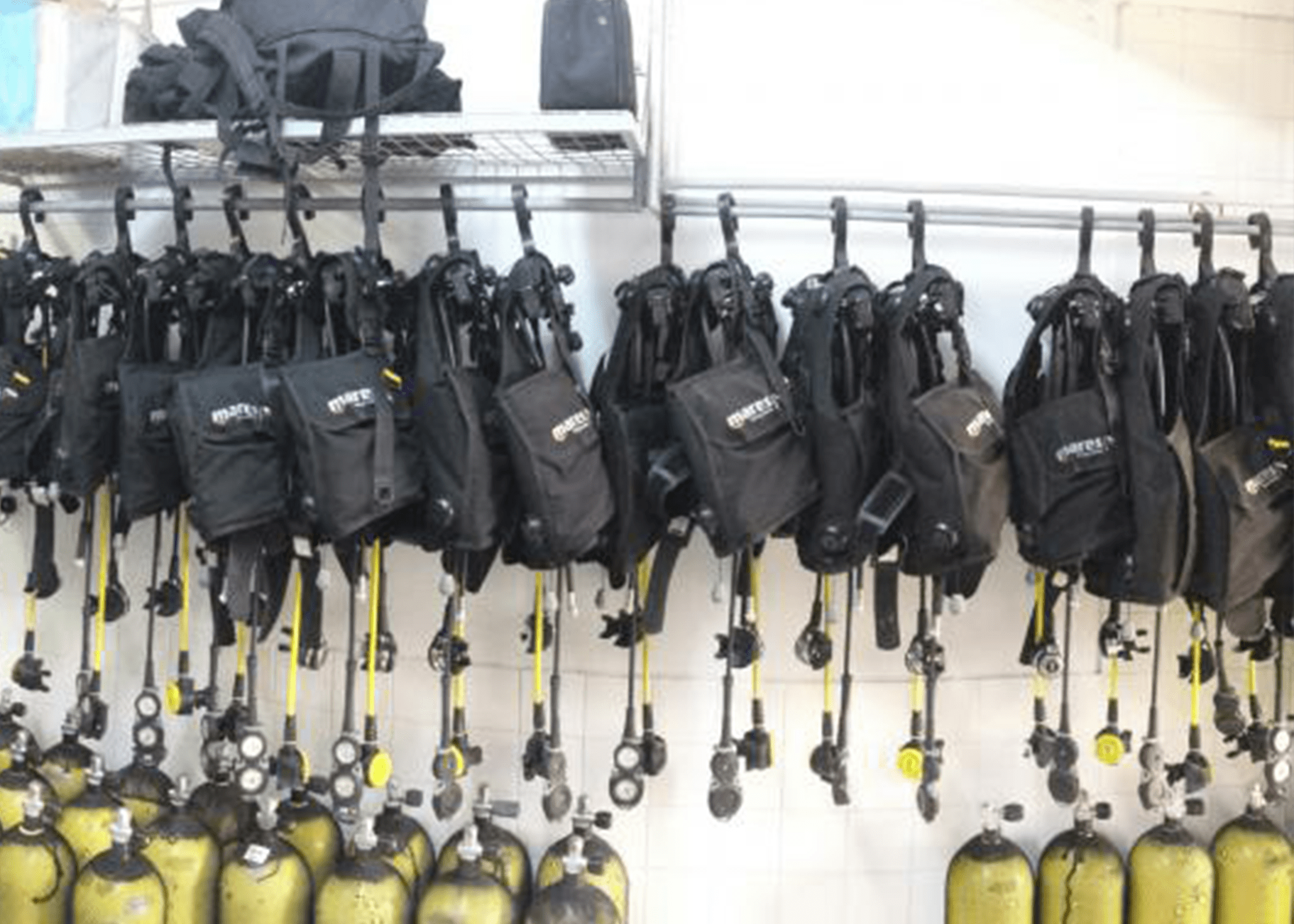 What their rental gear looks like. Seriously.
This is the problem with most all dive shops' rental gear. It's RENTAL gear. The cheapest brands, unbalanced regulators (much harder to breathe at depth), non-weight integrated BCs (requiring a dangerous weight belt), and NO computers. And they're all exactly the same. boring. thing.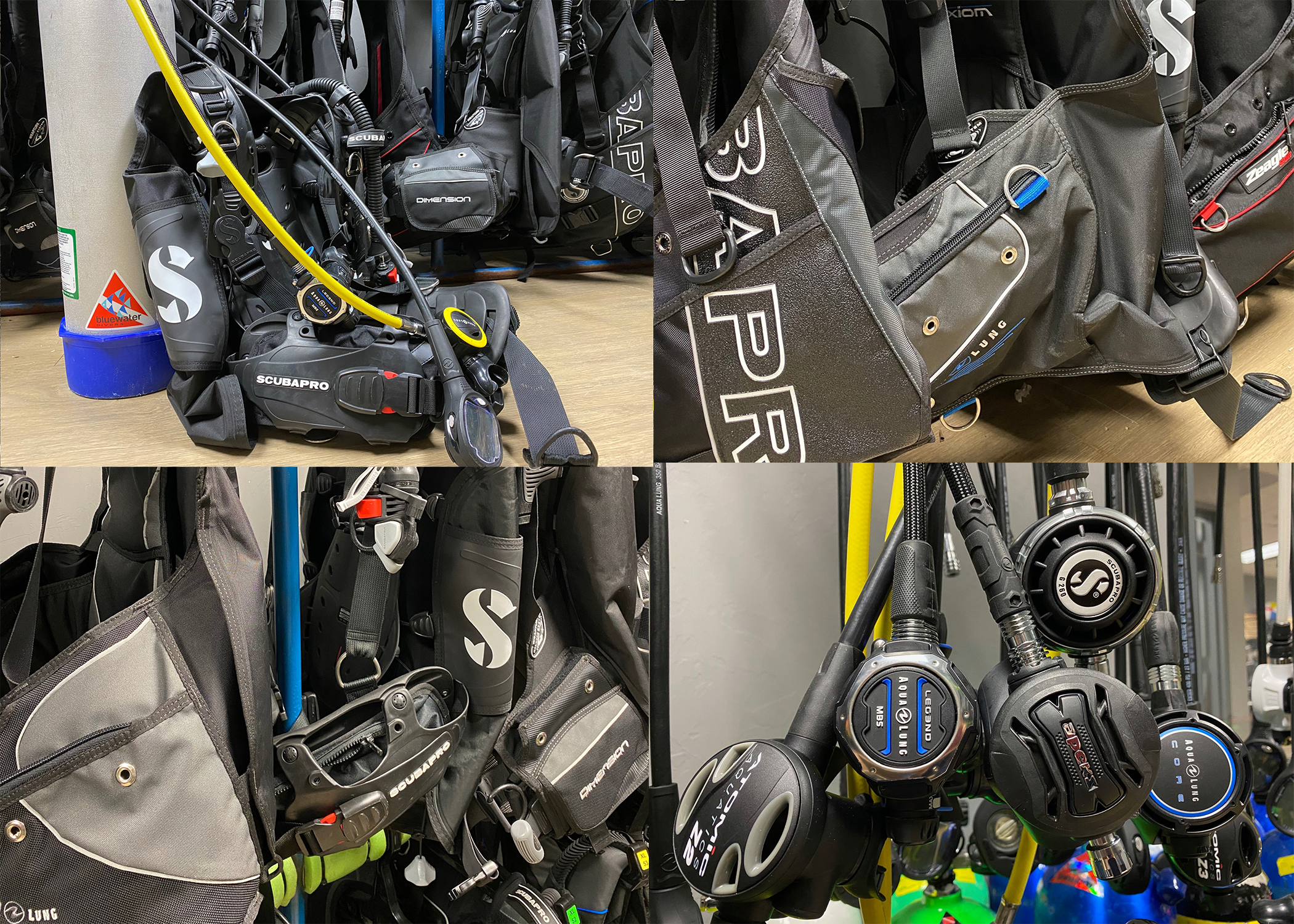 What ours looks like. 🙂
All the top models from all the best brands. NO unbalanced regulators. NO weight belts. We sell it all and start over again every year, so it's never more than 1 year old. Add in Rent To Own, and our rental and demo department simply can not be beaten. Full list below!
Regulator sets
All come with Aqua Lung ABS low-profile octo and i550C air-integrated computer with Bluetooth.
Apeks XTX50
Apeks XL4+
Apeks XL4
Apeks ATX
Aqua Lung Core
Aqua Lung Legend MBS
Atomic Z2
Atomic Z3
Atomic B2
Oceanic Delta 5
Oceanic Zeo
Scubapro MK25/S620Ti
Scubapro MK21/S560
Scubapro MK11/C370
Scubapro MK17EVO/G260
Scubapro MK19EVO/D420
Sherwood Oasis
Sherwood SR2
Zeagle F8
Zeagle Envoy II
Aqua Lung Wave (kid-sized jacket) – 3XS, 2XS
Aqua Lung Axiom (hybrid) – XS, S, M, ML, L, XL, 2XL
Scubapro Bella (ladies' jacket) – XS, S, M, L
Aqua Lung Soul (ladies' hybrid) – XS/S, M, ML
Aqua Lung Dimension (back-inflate) – S, M, ML, L, XL
Scubapro Glide (jacket) – S, M, L, XL, 2XL
Zeagle Resort (jacket) – S, M, L, XL
Scubapro Hydros Pro (back-inflate) – S, M, L, XL/2XL
Call or come by to check it out and reserve yours!