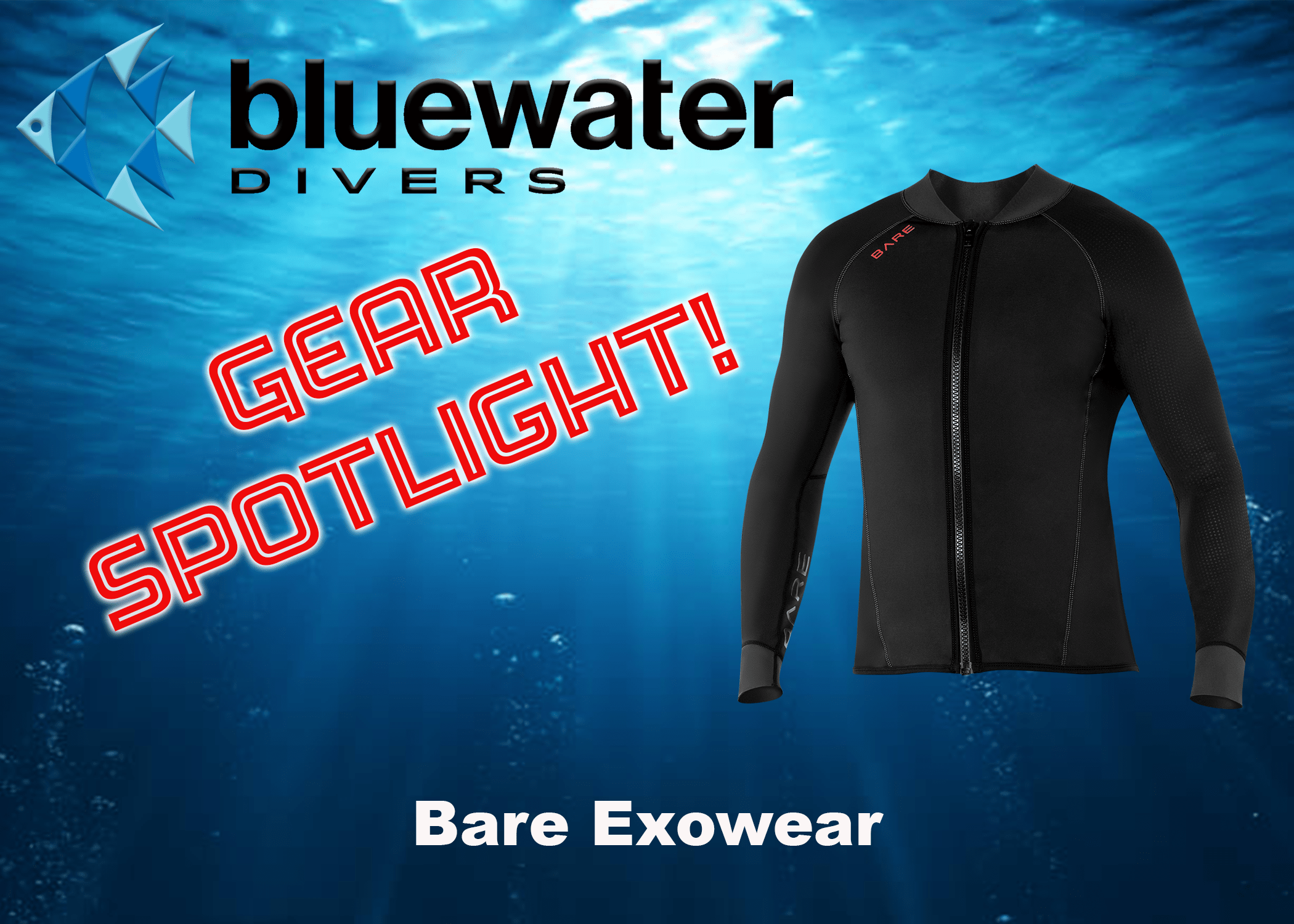 What a great product Bare developed with Exowear! We've carried, and had good luck with, products kind of similar to this, but Bare really raised the bar with Exowear. Enough so that most of  the "similar" products went to the Closeout department.
Let's explore some of the many unique features that make Bare's Exowear such an incredible product:
Not a wetsuit – Exowear is equal in warmth to about a 2-2.5mm wetsuit, BUT it's not neoprene, so it's almost completely neutrally buoyant. That means you don't have to add any weight like you would with a wetsuit. 
Layerability – Exowear is great by itself in warmer waters, but when the water gets chilly (think Beaver Lake in the Spring or New Mexico's Blue Hole anytime) and your wetsuit isn't quite enough, Bare still has you covered. Layer it under your existing wetsuit to turn a 3mm into a 5mm or a 5mm into a 7mm WITHOUT extra bulk OR having to add any more lead weight! Since the material is moisture wicking, it also makes a good undergarment/base layer when you're diving a drysuit.
A Full Line – Bare's Exowear is available in pretty much any piece you would normally need in neoprene. Full suits, tops (with and without zipper), pants, shorts, vests, hoods, gloves, socks, and more. Most pieces are available in men's- and women's-specific sizes. And it's all SO much lighter than the equivalent piece in neoprene that it's practically begging you to take it on vacation with you.
OMNIRED – This is the secret sauce behind Exowear (and many of Bare's other products). Thermo-reactive minerals have actually been woven into the fabric. This converts body heat into infrared energy that's then reflected back onto your body. OMNIRED makes Exowear the warmest product in its class.
3-Layer Fabric Technology – Bare Exowear combines an outer layer, a middle membrane, and an inner fleece layer to make a product that is water repellant, breathable, windproof, quick dry, moisture wicking, and antimicrobial. Find that in another dive wear performance garment! Go ahead, we'll wait…
Click the pic at the right for more details.
Bare's Exowear is priced about the same as a good-quality wetsuit, with full suits coming in around $300 and hoods and gloves under $50. And you'll pay less for it at Your Dive Shop than anywhere else. This is the future of thermal protection. Come by the shop and check it out!
A cool video from Bare highlighting some of the innovative features of Exowear.