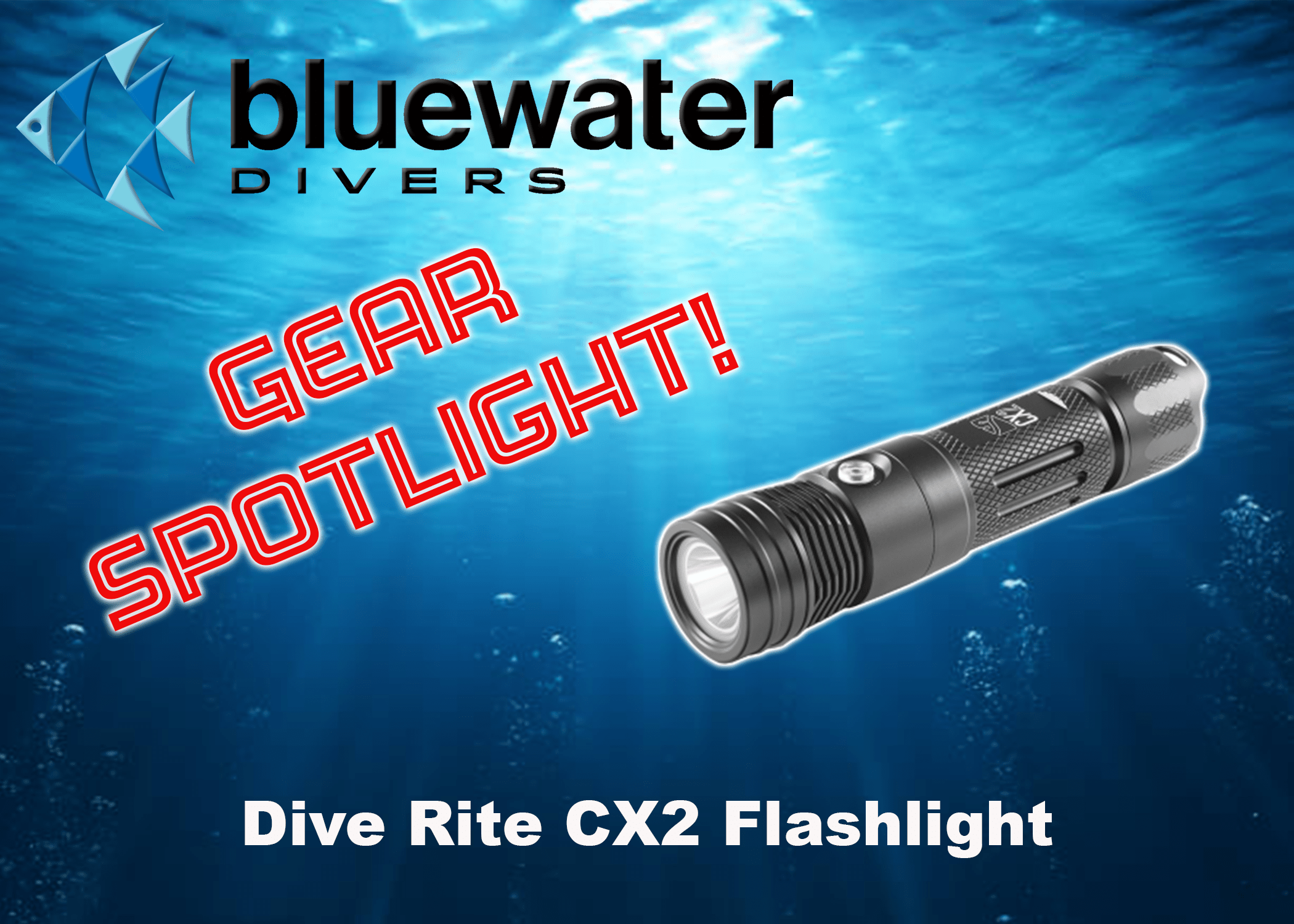 Underwater flashlights (or torches, if you prefer) are a lot like other technology. Like cell phones and smart watches, they just keep getting better. And just when you think they've jumped the shark (Batman TV show reference), the next model is even better. The Dive Rite CX2 is no exception!
Let's dive into just what makes the Dive Rite CX2 such an exceptional tool for your next night (or any other kind of) dive!
Rooted in Excellence – From their home in Lake City, FL, Dive Rite is right in the heart of cave country. This has led to years of innovation in larger, canister-style lights with extreme brightness and plenty of burn time for cave divers. The CX2 is simply a slightly scaled-down version of those industry leaders for the rest of us to enjoy!
Plenty of Power – The Dive Rite CX2's Luminous SST40 LED boasts a max output of 1700 lumens in a tight, 8° beam. That's 400 lumens brighter and 2° tighter than the next closest light we currently stock, AND it's cheaper! One of the most impressive things is the 2.75 hours of burn time on high power! Its next closest competition we stock is 2 hours at 1300 lumens.
More awesomeness about the Dive Rite CX2:

Four power levels, plus a full-power strobe mode
LED battery level indicator
Waterproof to 330 feet
CNC-machined aluminum body
Fully compatible with Dive Rite's QRM (quick release mounting) system
Fully charged from empty in ~6 hours
Included 21700 5,000mah battery and 18650 adapter sleeve
Coolest Battery Features – Forget about buying more batteries and having to take a bunch with you on a dive trip. Rechargeable lights are pretty much the industry standard now. But where many of them make you remove the battery and charge it in a cradle, the Dive Rite CX2 allows you to simply unscrew the back cap and plug in the included USB-C cable. What's more, if the included 21700 battery should die on you out on the boat with no way to recharge it, Dive Rite includes a sleeve that allows you to quickly swap to an existing 18650 battery and keep on diving!
Click the pic at right for a larger view.
Retailing at only $159, the Dive Rite CX2 is a LOT of dive light for the money, and the light, charge cable, lanyard, spare o-rings, and 18650 battery sleeve all come in a nice hard case. You might also be interested in its little brother, the BX2, a simple, reliable, 1000 lumen powerhouse that retails at just $109!
Check out this video to see what Divers Ready's James Blackmon thinks about the Dive Rite CX2!