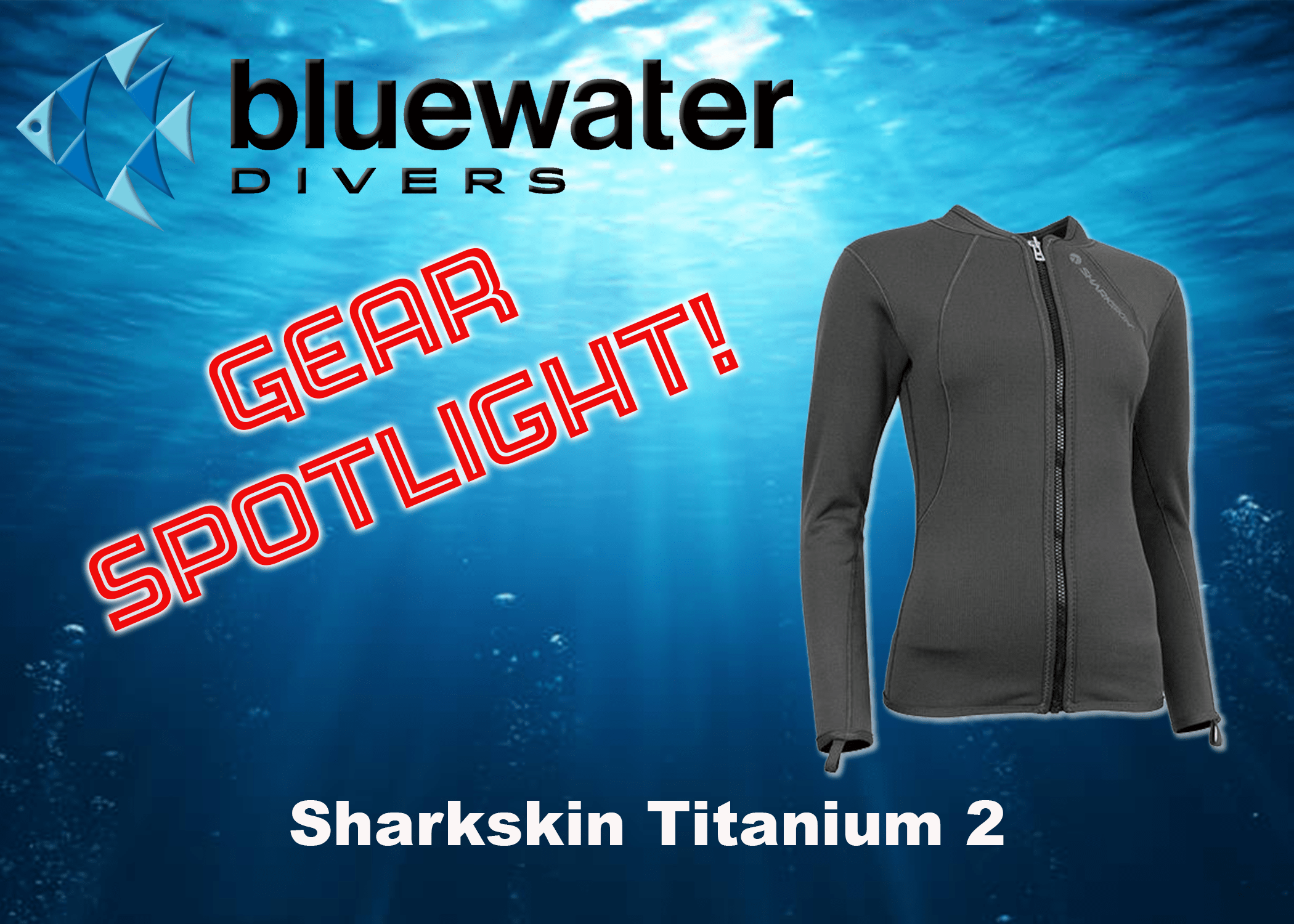 Australia-based Sharkskin has a long history of making fantastic neoprene-alternative exposure protection. Their original Chillproof garments were one of the first, and most successful, products to give wearers the warmth of a 3mm wetsuit while not adding any buoyancy. The new Titanium 2 line raises the bar with a rated 5mm warmth equivalence with NO ADDED BUOYANCY.
Let's look at what makes Sharkskin's Titanium 2 line the future of exposure protection:
Titanium! – It's not just in the name; it's in the garment. Other wetsuit-alternative manufacturers use minerals woven through the fabric to reflect energy (body heat) back on the wearer. Sharkskin Titanium 2 just uses a LOT more titanium nanoparticles to keep the wearer even warmer.
Layerability – Sharkskin Titanium 2 is great by itself in cool waters, but when the water gets really cold (like Beaver Lake down deep or New Mexico's Blue Hole anytime) and your wetsuit isn't enough, layering is important. Layer it under your existing wetsuit to turn a 3mm into an 8mm or a 5mm into a 10mm! The attached thumb loops on the tops and stirrups on the pants make this a breeze. And since the material is moisture wicking, it also makes a good undergarment/base layer when you're diving a drysuit.
A Full Line – Sharkskin Titanium 2 line is available in two types of full suits, plus full-zip tops, pants, vests, hooded vests, hoods, gloves, and socks. Most pieces are available in men's- and women's-specific sizes. And all their garmets use Sharkskin's proprietary 'body mapping' technology for a better fit.
Click the image for a closer look!
It's not neoprene! – Weight and bulk are major considerations when travelling, and Sharkskin weighs much less AND takes up much less room in your luggage than a comparable neoprene wetsuit. And because their T2 line is neutrally buoyant, you get to wear the same amount of weight you'd wear in just your swimsuit! It's also much more eco-conscious than neoprene, which often uses chemicals that aren't that great for our environment.
The bottom line straight from Sharkskin –

SHARKSKIN's legendary Chillproof material has been embedded with nanoparticles of titanium that capture and retain significantly more body heat. The inner layer features a "hollow yarn" fleece that holds and warms water next to the skin while in the water. The middle technical layer is a one-way membrane that regulates body temperature on the surface by keeping out wind and water but allowing water from the inner layer to wick rapidly away from the body. The new, updated outer layer is a nylon/lycra blend with exceptional four-way stretch, is abrasion resistant and has a water-repellant finish that sheds water.
Click the pic at the right to enlarge.
The Sharkskin Titanium 2 line of products isn't the cheapest on the market with full suits starting around $500, tops at $249, and gloves/hoods around $65, BUT getting 5mm warmth without the wetsuit bulk and buoyancy is well worth it!
Here's a short video from Sharkskin highlighting the innovative features of Titanium 2.