Shearwater Peregrine Dive Computer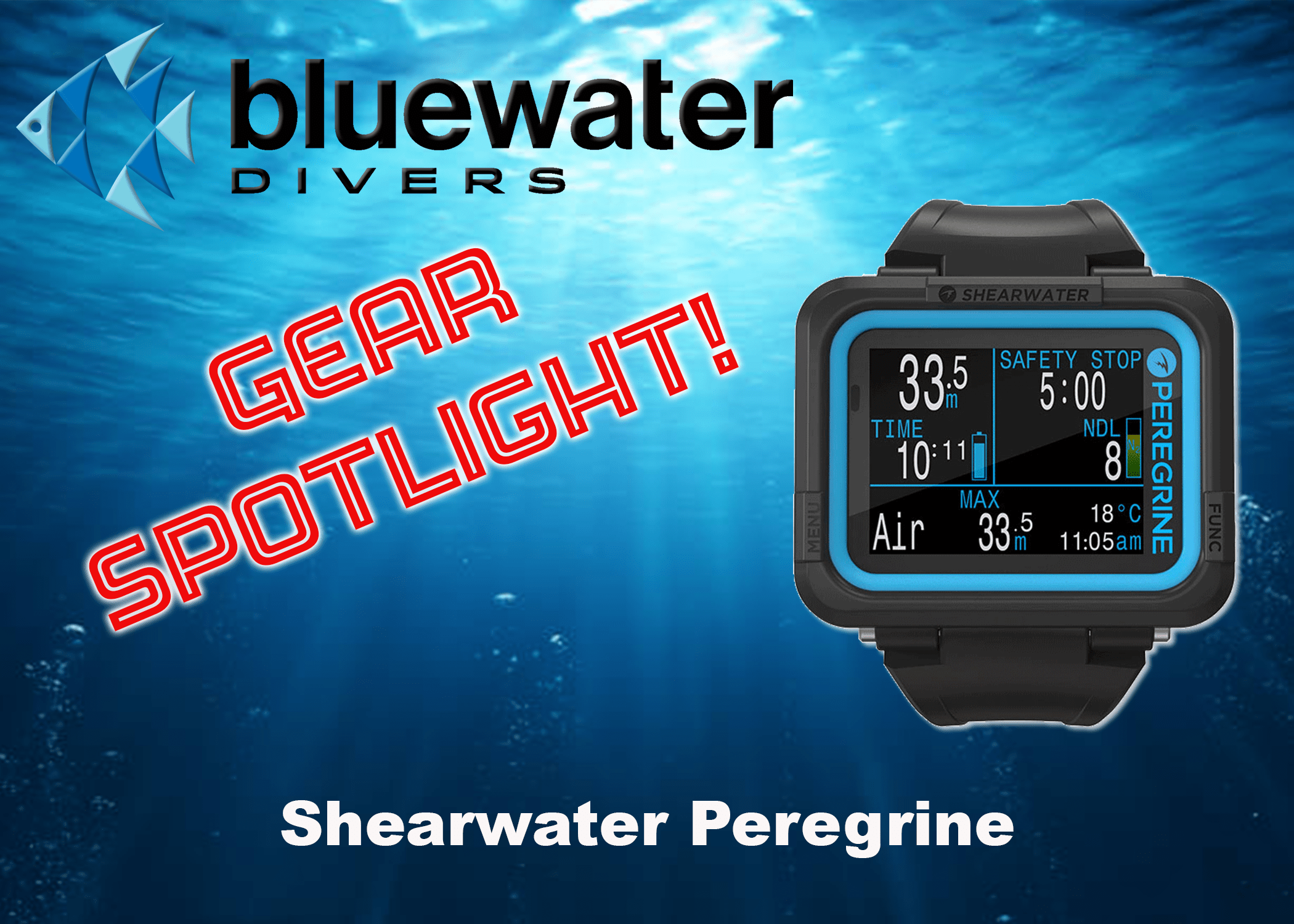 All you have to do is type "best dive computer" into a search bar. Out of 100 hits on Google, about 99 of them will say "Shearwater." There's good reason for that!
Shearwater dive computers are known for quality, customizability, and ease of use. Until recently, their focus has been on the world of technical diving. While still holding on to its tech roots, the Peregrine is Shearwater's first computer aimed directly at the everyday recreational diver, and it doesn't disappoint!
It's a Shearwater! – Seriously, that means something. Calling something "the best" these days is largely subjective, whether it's a car brand, a football team, or a TV show. In Shearwater's case, they've earned it. Their screens are brilliant and easy to read, the operating system and algorithm are top-notch, menu navigation is extremely intuitive, and they simply work. All the time. They are made by humans, though, so you can rest easy knowing that Shearwater's customer service is second to none.
Full-Color Display and State-Aware Menu – Shearwater computers are known for beautiful displays, and the Peregrine is no exception. Its 2.2″ LCD screen is super easy to read, both underwater and outside in the sun, with clear, sharp lines and adjustable brightness levels. Like the Perdix and Petrel lines, the Peregrine sports a simple, 2-button interface that's state aware. That means that for any menu you're in, the screen tells you what the buttons do!
Features you'd expect on much more expensive computers:

Wireless charging-just set it on the charging pad. No batteries to change!
User customizable display-show the information YOU want to see
Four modes-Air, Nitrox, 3-gas Nitrox, and Gauge
Bluetooth wireless technology for downloading dives to the app or desktop
Bühlmann ZHL-16C algorithm with Gradient Factors
Full decompression support, including dive planning
Wrist-worn with either the 26mm strap or included bungee
Shearwater Cloud – Use the Bluetooth technology to download your dives to either a desktop computer or the phone app available for both iOS and Android. You can review every aspect of the dive, choosing to see as much, or as little, info as you choose. Full dive profile, water temperatures, inert gas loading, whatever! You can even sync between the desktop and phone without having the Peregrine involved because it's all stored in the cloud!
Click the pic at right for a larger view.
At $510 the Shearwater Peregrine represents one of the best quality, most feature-laden computers you can buy at an incredible value. Add an SPG, and you're ready to go! Or use it as a backup to your Perdix or Petrel for technical diving! Shearwater continues to advance, innovate, and amaze. The Peregrine is a great, cost-effective way to see what all the fuss is about!
Here's a short video showing how easy it is to set up the Peregrine. Many more videos available!