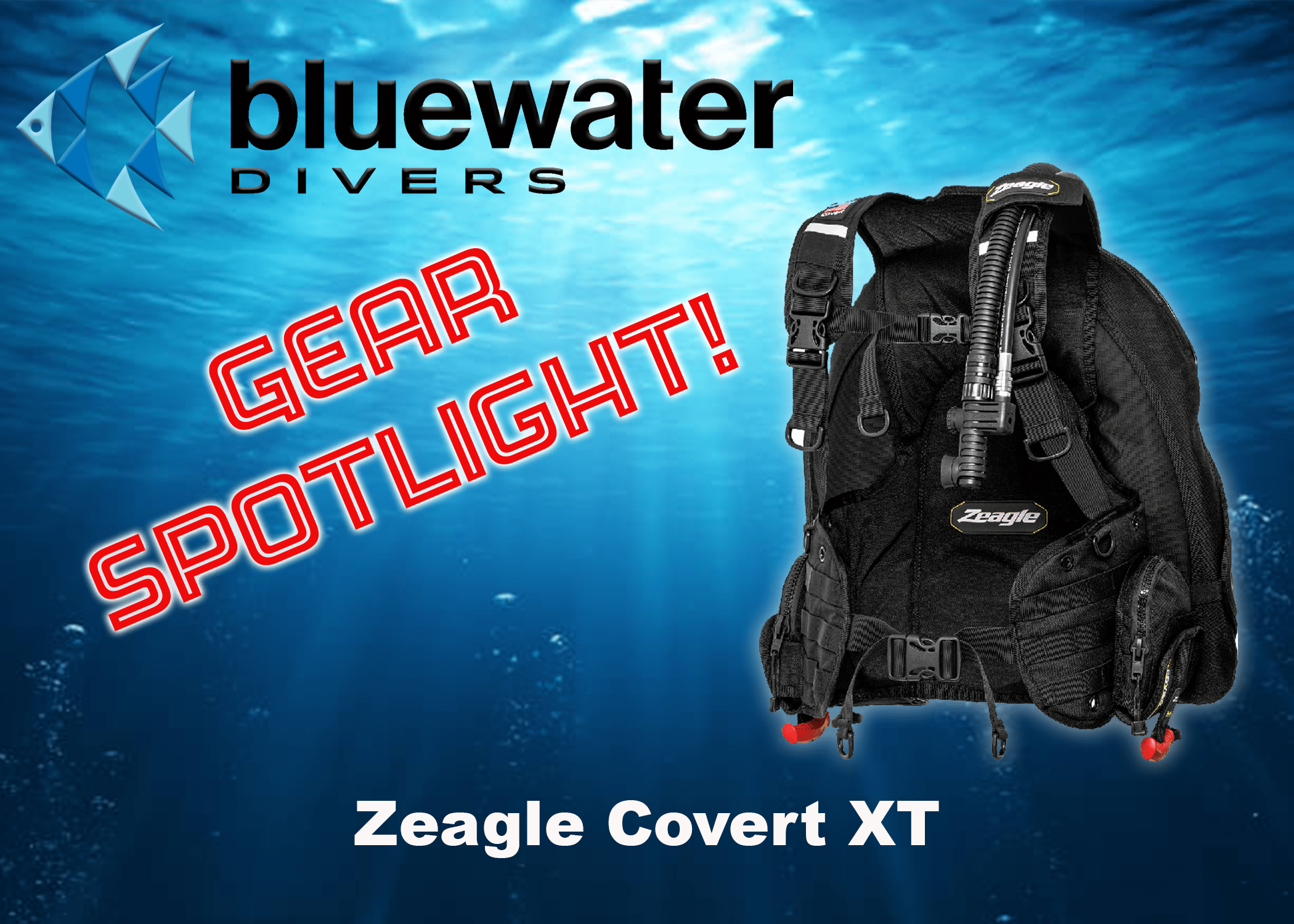 Zeagle has been a big name in BCs for a long time. Professional dive teams, as well as thousands of recreational divers, have long appreciated their build quality, lift capacity, comfort, and easy-dump weight systems.
With a fresh new look, here's Zeagle's best travel-oriented BC yet, the Covert XT. Ultra lightweight, comfortable, inexpensive, and still durable.
Ultra Lightweight – When you're traveling to your favorite dive locale, one of your biggest worries is keeping your luggage under that pesky 50-pound restriction. Zeagle's Covert XT makes that a lot easier by being

just over 5 pounds

with inflator! Since it doesn't have a hard back like most BCs, it'll even roll up tightly in a corner of your carry-on or backpack.
Easy Rinsing – You don't hear it talked about often, but rinsing the inside of your BC's air cell can be a pain. Hold down the deflate button, hold the oral inflator opening under running water, try to get enough in there, shake it around, dump it back out, then repeat for all the other dump valves! Zeagle BCs, including the Covert XT, make it easy by allowing their BX inflator to unscrew, leaving a perfect match for a standard garden hose. Turn on the water, flush the dumps, let it dry, done!
Not a One-Trick Pony – Sure, the Covert XT is designed as a travel BC, but that doesn't mean it has to be limited to travel. Zeagle buoyancy compensators have a tough-as-nails reputation, and the Covert is no exception. Feel free to put it through its paces at the lake or anywhere else. Cold water diving in a thick wetsuit? No problem. The Covert XT holds 7 pounds per side in easy-loading, drop-ditch pockets, as well as 5 pounds per side in the rear trim pockets. That's a lot of weight capacity for a travel BC!
Even More Great Features – Zeagle designed the Covert XT to be lightweight but still feature-rich. To help keep weight down, the Covert doesn't have a hard back, instead using two tank bands to let the scuba tank itself become the rigidity for the BC. Zeagle also opted to leave pockets off the Covert, instead installing a Molle system on the vest/waist portion for a wide variety of attachments. Four plastic D-rings, generous rear lift (26 pounds in XS-L and 35 pounds in XL), light but comfortable padding, and plenty of  dump valves round out this great little package.
Retailing at only $459.95, the Zeagle Covert XT is just as easy on your wallet as it is on your luggage scale. Durability, quality, comfort, and ease of use are just a few of the great features in this tiny (but mighty) package. Your new favorite back-inflate travel BC is here!
Here's a short video of the Covert XT winning ScubaLab's Testers' Choice for back-inflate BCs.