SeaLife SportDiver Underwater Phone Housing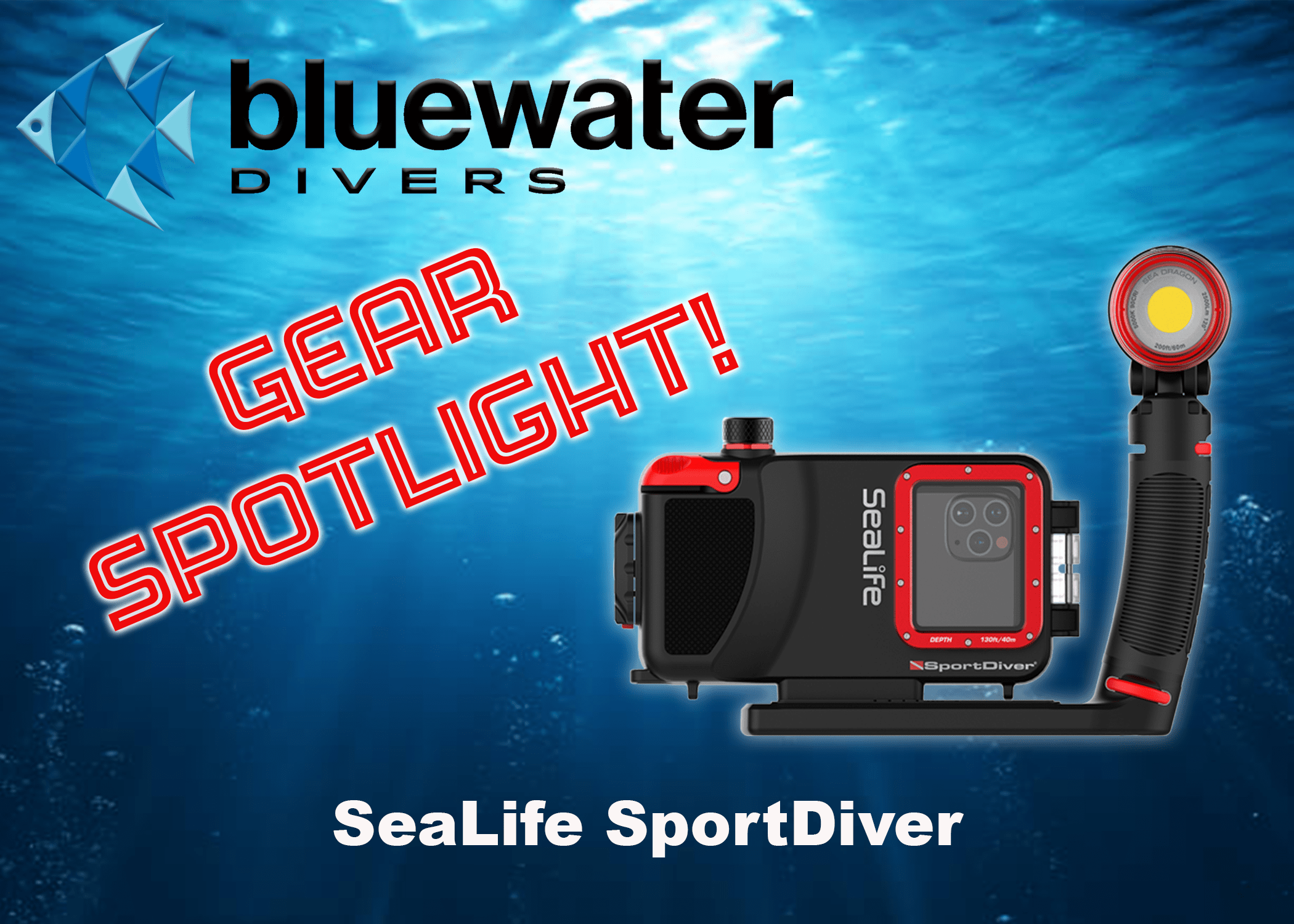 If you've been thinking about a new underwater camera, or maybe your first underwater camera, this IS the answer you've been seeking!
SeaLife has been ubiquitous in the underwater camera market for decades. Now they've seriously stepped up their game by giving you the ability to take great underwater pictures using the best camera you probably already own: your phone!
Uses existing technology – If you have a modern iPhone or Android phone, you already know how incredible the cameras are on those things. Why buy a dedicated camera for your dive adventures when you already have one? Just snap it into a SeaLife SportDiver waterproof housing (rated to 130′), and you're ready to go!
Easy to use – Open the proprietary SportDiver app on your phone, place your phone inside the housing, draw a vacuum with the included hand pump, wait for a 3-minute self-check, go take great underwater pictures and video. That's it! A simple 4-button interface and large shutter lever make it a breeze to switch between photo and video, make setting adjustments, and take and view your pictures, even if you're wearing thick dive gloves. The SeaLife SportDiver works with all iPhones from the iPhone 7 to current and most Androids (it doesn't fit some of the really big Note-style Android phones). Check to see if your phone is compatible here.
Tons of features:

Access to the most popular camera settings already on your phone
Dual leak alarms constantly monitor for both internal moisture and vacuum pressure
Removable color-correction filter to help bring back vibrant colors you lose with depth
Bluetooth wireless technology for connecting to your phone without the hassle of cables
Triple 1/4-20 tripod mounts for connecting to SeaLife trays or any others with standard tripod mounts
Powered by two included AAA batteries giving over 50 hours of continuous use
Expandable by adding SeaLife's Sea Dragon line of underwater photo-video lights and trays
Allen's Endorsement – If you know our owner, you know he's not only the Director of Happiness but also Captain Underwater Photography. He recently took his new SeaLife SportDiver on a dive trip to Cozumel. He loved it so much that, when he got back, he sold most of his "many thousands of dollar's worth" of high-end underwater camera equipment, lights, strobes, and trays on eBay. Seriously. If it's good enough for him to do that, we think you'll be extremely pleased with what the SportDiver can do for your underwater photography. Stop by and take a look!
You can turn the awesome camera you already have in your pocket into an underwater imaging powerhouse for just $349! Or get the whole kit complete with the Sea Dragon 2500F Photo-Video Light, arm, and mounting tray for $749. You can always add the light kit later if you want or use SportDiver with your existing underwater lighting setup.
Here's a great video from SeaLife detailing some more of the features of the SportDiver!